Click "ler mais" to read the complete article
If you are in town between the 4th and the 11th of May, we are sure you will want to be in Porto's academic week. During these days students from several universities will take the most out of the academic spirit felt all over the city, and you can be part of it.
During these days we will post information about the different activities and concerts that will be happening in Queima week, so keep your focus on :D
Today you can get to know what is the Traditional Academic Costume, Praxe (hazing) and the Monumental Serenade, that officially opens Queima week.
Academic "costume" and Praxe
During your stay in Porto, you will probably notice a lot of young people wearing black clothes / capes. Well, they are college students wearing the traditional academic "costume".
The wearing of the famous dressing began in University of Coimbra, the oldest in Portugal, but ended up being embraced by all the others. In the beginning, only men wore it, but from 1937 on women were also allowed to do it. It was a way of distinguish college students from the rest of society.
The costume can only be worn from second year students on, by students who completed praxe (hazing).
Praxe (known in other countries as hazing) is another academic tradition. It is a set of practices aimed to enhance integration and socialization of freshman students, known as caloiros. Usually, in these activities, the first year students must obey and accomplish a series of tasks ordered by the older students.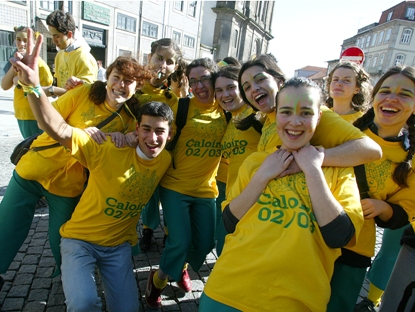 Monumental Serenade
Queima das Fitas (The burning of the ribbons) begins with the

Monumental

Serenata (Monumental Serenade). It i sone of the highest moments of the celebration, in which college students and ex-students dressed with the traditional clothes, sing several

fados,

accompanied by portuguese guitars.
The Serenade has a special meaning to students, as it symbolizes the end of the academic course, the beginning of college or the completion of another school year. This year it will take place at midnight of the 5th of May ( this Saturday), in one of the most charismatic places in town, Aliados Avenue.
Se estás pela cidade entre dia 4 e 11 de maio, com certeza que vais querer estar presente na semana académica do porto. Durante estes dias os estudantes das varias universidades vão viver ao máximo o espírito académico e tu podes fazer parte disso.
Durante estes dias vamos publicar informações referentes às atividades e aos concertos no recinto da queima portanto não te esqueças de ficar atento :D
Hoje podes já ficar por dentro do que é o Traje Académico, a Praxe e a Monumental serenata, que abre oficialmente a semana da queima.
Durante a tua estadia no Porto, provavelmente, vais reparar em muitos jovens vestidos de negro. Pois bem, são estudantes universitários e a envergar o tradicional traje académico.
O famoso traje começou por ser usado na Universidade de Coimbra, que é a mais antiga de Portugal, mas acabou por se estender a todas as outras universidades do país. No início, só os homens usavam essa indumentária, mas a partir de 1937 também as mulheres passaram a trajar. Era uma forma de distinguir os estudantes universitários do resto da sociedade.
O traje só pode ser usado pelos alunos a partir do 2º ano da faculdade, após terem cumprido um ano de praxe.
A praxe é outra tradição académica. É um conjunto de práticas que visa a integração e sociabilização do caloiro, ou seja dos novos alunos, na universidade. Normalmente, os caloiros devem obedecer e cumprir uma série de tarefas ordenadas por estudantes mais velhos.
Como já foi dito antes, a Queima das Fitas inicia-se com a Monumental Serenata. É um dos momentos altos das comemorações, na qual estudantes e ex-estudantes universitários trajados, interpretam vários fados, acompanhados pela guitarra portuguesa.


A Serenata tem um significado especial para os estudantes, pois simboliza o fim do percurso académico, a entrada na universidade ou o completar de mais um ano estudantil. Este ano decorre a partir da meia-noite do dia 5 de Maio (este Sábado), num dos locais mais emblemáticos da cidade, a Avenida dos Aliados.